Recordings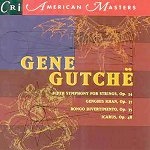 * Symphony for Strings #5, Op. 34
* Genghis Khan, Op. 37
* Bongo Divertimento, Op. 35
* Icarus, Op. 48

Cincinnati Symphony Orchestra/Max Rudolf
Louisville Orchestra/Jorge Mester
Marvin Dalhgren, percussion/St. Paul Chamber Orchestra/Leopold Sipe
Rochester Philharmonic Orchestra/David Zinman
CRI CD825 ADD 64:56
This CD can be purchased through The Schubert Club for $10.

Read a review on classical.net.

Listen to audio samples on Amazon.com.
---
CD REVIEW: Inviting CD pays tribute to Gene Gutchë
(from The Star Tribune, March 4, 2001)
This worthy collection of orchestral works by Gene Gutchë wasn't planned as a memorial album. But it serves as such after Gutchë's death, at 93, in November in Maplewood.
These are four of Gutchë's most significant pieces, none of which has been available on disc for quite some time. There's historic interest here, too: The live 1962 performance of "Bongo Divertimento," originally released two years later on the St. Paul label, is an early recording by the St. Paul Chamber Orchestra, led by Leopold Sipe, its first music director. It's one of Gutchë's wittiest works. Audience laughter can be heard at the end of the third movement, "Bluebottle Fly," during which the percussionist does battle with an imaginary insect. Marvin Dahlgren is the skillful soloist, using hands, elbows and sticks on a dozen or so percussion instruments.
Three of Gutchë's more serious works complete the set. Two of them, "Icarus" and "Genghis Khan," are characteristic of Gutchë in that they tell a story. "Icarus" combines the mythical tale of the young man who flies too close to the sun with the saga of Christopher Columbus. Both works are bright, brassy and punchy; they evoke Stravinsky and Ruggles, but exhibit the Gutchë stamp: large musical structures built from small blocks of notes. The performances, led by Zinman and Mester, are forceful and detailed, as is Rudolf's sympathetic reading of the Fifth Symphony, which Gutchë composed in 1962.
- Michael Anthony