Further Resources
Interviews
Public Radio interview with Gutchë, before Carnegie Hall performance of Genghis Khan
Real Audio opens in Real Player (get a free Real Player here).
Performance Incentive Fund
The Schubert Club and the Gene Gutchë Estate announce a new grant opportunity founded to encourage and support public performances and recordings of the music of Gene Gutchë. Proposals may be submitted by performing ensembles and presenting institutions, or by individual performers. Click the link below for complete guidelines.
Read about the Performance Incentive Fund
Minnesota Public Radio feature
Gene Gutchë: He did it his way
Minnesota Public Radio
This feature by Minnesota Public Radio host Michael Barone links to sample audio and interview clips, and details Gutchë's programmatic orchestral suite, "Icarus."
Listen here:
http://minnesota.publicradio.org/display/web/2007/09/12/gene_gutche/
Personal Files
University of Minnesota's "Gene Gutchë Papers"
The collection contains score manuscripts, published scores, proofs, correspondence, programs, and clippings. Also includes scrapbooks, books, journals, photographs, business records, personal financial records, legal documents, CDs, LPs, open-reel tapes, cassette tapes, and memorabilia.
Gutchë's Correspondence
How to Order Scores
Gutchë's orchestral scores are available from the Fleisher Collection at the Free Library of Philadelphia for perusal or performance. Anyone interested in the performance material for any of Gutchë's orchestral works, should contact the Fleisher Collection.


The Edwin A. Fleisher Collection of Orchestral Music is the world's largest lending library of orchestral performance material, with over 21,000 titles and growing. It is a unique source of 19th- and 20th-century American music, and has a longstanding commitment to promoting new, noteworthy, and overlooked works.



Contact:
Kile Smith, Curator
Fleisher Collection of Orchestral Music
Free Library of Philadelphia
1901 Vine St.
Philadelphia, PA 19103-1116
215-686-5313 tel / 215-686-5314 fax
Or send an e-mail

To search the Fleisher Collection:
1) Access the searchable catalog at https://catalog.freelibrary.org.
2) Type "Gene Gutche" into the search field
3) Under "Search by" below, click "Add Limits."
4) Under "By Location" choose "Fleisher Collection"
5) Click once in the keyword box again and press return to search

---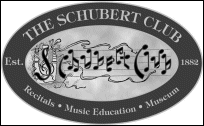 All other materials (chamber, vocal and solo scores) are available from The Schubert Club. Anyone interested in perusing or performing a work of Gutchë may request a score at the contact information below. The Schubert Club also has master recordings of most of Gutchë's performed music, his wine bottle collection, his self-published booklets on the philosophy of art, and commercial CDs of his orchestral music.


Contact:
Abbie Betinis, composer-in-residence
The Schubert Club
302 Landmark Center
75 West 5th St.
Saint Paul, MN 55102

651-292-3267 tel / 651-292-4317 fax
Or send an e-mail