List of Works
Orchestra
Epimetheus USA, Op. 46
Instrumentation
: full orchestra (see below)
Composed
: 1969
Performance Time
: 8 min.
Dedication
: To Sixten Ehrling and the Detroit Symphony
Commissioned by
: The Detroit Symphony
Premiered
: November 13, 1969 (The Detroit Symphony - Sixten Ehrling, conductor)
Score available from
:
Fleisher Collection of Orchestral Music
at Free Library of Philadelphia.
Program Note
:
"...and when Prometheus ignited the earth, Epimetheus took the fire to lighten a new world."
Epimetheus, the lesser known brother of the two Titans, Prometheus and Atlas, is also remembered as the husband of Pandora, and the one who unwittingly opened the box that unleashed great afflictions upon the world. He is thus linked in the mind as the blood relative of the gods of fire and might, and as the unthinking provoker of evils. The ancients venerated fire and power but were terrified of its potential. In EPIMETHEUS USA, Gene Gutche has written a modern allegory suggesting through the symbols of music that modern industrial might is similarly a terrifying force capable of great good and unthinking destruction. The composer has pictured the United States as the epitome of that might and in particular the city of Detroit, one of the great industrial centers of the world. In so doing, he has honored the city whose orchestra, the Detroit Symphony, and whose conductor, Sixten Ehrling, commissioned this work.
Though the work was inspired by and moves along the lines of broad symbology, EPIMETHEUS USA is music which can be heard and enjoyed solely on a formal basis. The architecture of the work is completely structured on an exposition, in which principal and subsidiary subjects (a canon at the interval of a fourth) are quickly stated. An extended, intese development ensues, followed by a contrasting playful theme with variations. The theme, sung by the Eb clarinet, is itself developed out of the principal subject. Variation I gives the theme to the strings with an ostinato figure in the brasses, bassoons and low strings. In Variation II the theme is heard in the horns against increasingly agitated ostinati. A very rapid meter scherzo leads into the searing final Variation III which climaxes the work with a heavy, giant stepping pulse. The language of EPIMETHEUS USA, like much of Gutche's music, is serial but with strong tonal centers. The twelve tone row is employed motivically, with a working out of three-tone cells from the row.
Began: Oct. 21, 1968
Completed: Nov. 6, 1968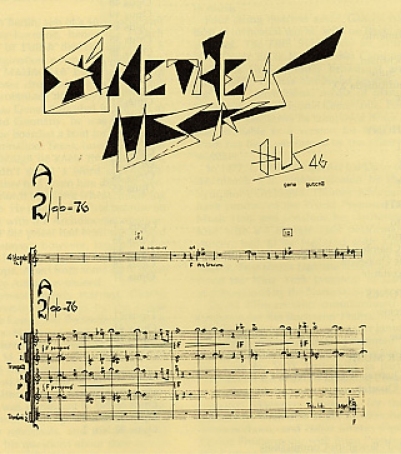 Instrumentation:
3 Flutes (picc)
3 Oboes (English horn)
Eb Alto Saxophone
2 Bb Clarinets
Eb Clarinet
2 Bassoons
Contrabassoon
4 Horns in F
2 Trumpets in C
2 Bb Trumpets
2 Tenor Trombones
Bass Trombone
Tuba
Timpani
Strings


Percussion (3 players):

Bass Drum
Triangle
Suspended Cymbal
2 Striking Cymbals
Conga
Tam-Tam