List of Works
Orchestra
Symphony V for Strings, Op. 34
Instrumentation
: String Orchestra
Composed
: 1962 (pub. 1965)
Performance Time
: about 22 min.
Score available from
:
Fleisher Collection of Orchestral Music
at Free Library of Philadelphia.
Recording available from
:
CRI, American Masters: Gene Gutchë
Program Note
:
Gene Gutche's SYMPHONY V for Strings won the 1962 Oscar Espla International Composition Competition Honorable Mention Prize. This work is based on the classic principle of exposition and varation, the structural main weight of the piece leaning on the two outer movements.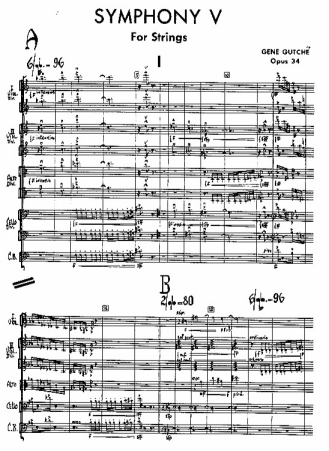 The first movement is a kind of perpetual motion based chiefly on an intense melody opposed by a vital triplet figure which is developed with great variety against many other shifting rhythmic designs of varying phrase lengths.
The second movement, BURLETTA, a musical farce, is a pizzicato ostinato. Its mood is sardonic and humorous.
The third movement, MESTO, is one of compact lyricism.
In the finale, LESTO, there is a combination of the powerful rhythmic drive of the first movement with some of the jocularity of the Burletta. This movement contains a most complete and elaborate musical development of all its many motives and materials.
SYMPHONY V has been recorded by the Cincinnati Symphony Orchestra, Max Rudolf, directors, and issused by Composers Recordings, Inc., CRI 189 and 189 SD.
Began Jan 4, 1962
Completed Feb 1, 1962